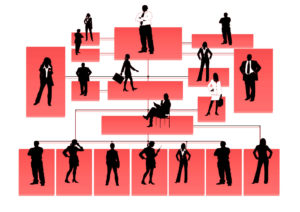 Many small businesses are stuck at a particular level and can't seem to grow beyond that point. In some cases, small business owners are choked with activities in the business. The business can't take on more clients or jobs, because that would mean more work for the owner, who must be involved in everything for it to turn out rightly.
If you're at this point in your business, you need to start seeing your business as a system on its own and begin to structure it to deliver on its products/services and objectives, by defining its individual parts and empowering them to function as they should. When you do this, you lay the right foundation upon which the business can scale and grow through different growth stages.
Does it sound complex? Here are some steps that show how you can achieve that.
Split the business into departments/units by outlining the various core functionalities in the business.
Ideally, every business should function as a system. A system is simply a collection of interrelated parts and components that work together to achieve a common goal. Depending on your industry, there are certain core functional units that need to exist/operate in order to perform that for which your business exists.
The common ones are:
Production
Research and Development
Sales
Marketing
Inventory/Purchasing
Logistics/Distribution
Finance & Accounting
Human Resource Management (or Administration)
Customer Service
Etc
In some cases, these can be grouped into three main categories: Operations (production, distribution, customer service, etc), Sales and Marketing (online marketing, advertising, product and brand management, etc), and Finance & Admin (bookkeeping, accounting, office management, IT, HR, financing, etc).
Break down the main roles under each of the core departments you've identified that make up your business.
Under each of the departments, outline the specific roles that must be accomplished. What do these departments exist to do? What functions do they have to carry out in order for the entire business to run effectively?
Assign roles to specific persons and also appoint someone to be in charge of each unit/department.
A good way to have gone about these steps so far is to have created an organisational chart. Now, for each role, write the name of a particular person who will be responsible for them.
Everyone must be clear about their role(s) in the organization and what is expected of them. It is possible for an employee to have multiple job roles; ensure that these roles are related or interwoven.
However, care should be taken not to give one employee control of many critical roles within the business. You don't want your business operations to halt just because one employee is unable to come into work for any reason.
Empower your employees with processes.
You've identified the functional units and their roles, now it's time to set up processes. Processes are the series of steps to be taken in executing the functions in each of these units.
In a clear and concise manner, outline what needs to be done to execute a particular business function (like fulfilling a customer's order).
Setting up processes allows for ease in the daily running of the business. It ensures consistency in the quality of products and services delivered. Other advantages include improved time management, effective resource management, elimination of redundant activities, and it could help you cut costs in running your business.
Set goals to drive performance.
Goals drive performance in a business. There should always be something the business is reaching forward to. Long term goals give direction to a business, while short term goals help lay out the path towards the long term goals.
A business is stuck if there are no specific targets it is aiming at. Where do you see the business in 5 years? Set the goals, then break them down into milestones, showing clearly what roles each unit/department has to play at each phase to bring the business closer to the long term goals and objectives.
Establish a reporting system to track and analyse performance.
Setting goals is not enough, you also have to set up a system to monitor the performance of the business, periodically track how closer to (or farther from) the goals you are getting, and make adjustments when needed to keep the business on track.
There should be daily, weekly, monthly reports from the various units that show how the business is doing in line with its objectives.
For instance, if you have a goal to reach a particular revenue target in 3 months, weekly sales performance report can tell if you are on track to hitting that goal, what products or services you may need to focus on, or what customer/market segment has more potential of delivering the targeted result.
Having periodic reports will give you insights as a business owner for making key decisions and help you stay aware of the health of your business.
Document, document, and document.
The structure of a business cannot exist verbally or only in the mind of the business owner (and perhaps some of its early staff). Properly structuring your business is supposed to allow for sustainability and growth in the business, and for this to happen, things need to be put down on paper and documented, so they are easy to communicate to new employees.
Here are four basic things that should be documented in your business.
SOP (Standard Operating Procedures): If you want to build a business that can function well without you, there are some things you can't neglect, and the SOP is one. It gives step-by-step instructions on how to perform routine activities in the business. It documents your processes. SOPs will help you maintain efficiency, quality output and uniformity of performance, and help any team member easily fill an absent role.
Job descriptions: Many startups think that everything about a Job description (JD) ends during the hiring process, but this isn't so. Job descriptions act as the benchmark used to measure the performance of the person you hire.
Employee Manual: This is essential as it serves as a base-line on how your employees should carry out their daily activities. This manual can also be used as a reference whenever you are not sure of some employability elements.
Sanctions and Disciplinary Policy: Many startups in Nigeria don't have this documented anywhere; they prefer to handle issues without concrete backing. A Sanctions and Disciplinary Policy allows you to find the best way to resolve a workplace crisis or any mismanagement activity that might be detected in the business.
Creating a structure in your business may not seem like an easy thing to do for most business owners, but it is a critical step that must be taken before a business can experience growth. The sustainability of your business also hinges on this.
Over the years, we have worked with several business owners in structuring their business and we know the freedom a structure can bring to any business owner and how much it makes businesses easier to manage.
Click here to leave a message if you would like us to work with you on structuring your business.